Jager was born in central Florida in August 2004. He is a miniature pinscher/papillion, with a very outgoing personality. He loves people, and for the most part their pets—as long as they're not too big. When they are, initially there's a bit of turmoil until the pecking order has been established.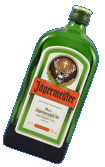 Jager was named after one of Ian and Eric's celebrated libations, and no doubt if the adults would let him, he'd be in the hooch.
Jager keeps in shape, loves to walk and run, and when he's not overindulging on "treats," he maintains a fighting weight of about 24 pounds. He loves to play with throw and tug toys, and has dozens of stuffed animals ranging from Sylvester the Cat to Funship Freddy.
He also has a penchant for dead fan-shaped palm fronds. He loves to "find" them, and then be chased around the yard with them in his mouth playing keep away; only occasionally stopping to shred them into little pieces. To maintain his energy levels, Jager likes to snack. Among his favorite treats are Old Mother Hubbard's Old Fashioned Biscuits, carrots, and broccoli (which he rarely gets—because it gives him gas!).
To be continued. . .